If it's worth having a serial number,
it's worth tracking with QFS

Software for Manufacturing.

Enhanced Production of Serialized Products
The Quality Feedback System (QFS) from Automation Programming, Inc. (API) allows your production department to track information on individual products, from their component parts through to delivery to the customer. QFS is designed specifically for managing the production of serialized products. Picking up where your MRP or Inventory Tracking systems leave off, QFS ties all your shop floor information together into one system. Through the use of QFS, you can:
Reduce Costs. QFS automatically tracks the information necessary to measure and control cycle times, providing you with a valuable tool to improve productivity. This information in QFS helps you find the root causes of failures so you can fix them, improving yields, without extensive digging through data by hand.
Improve Quality. QFS provides a proven method of quality standard compliance and documentation, helping facilitate ISO-9000 and other standards programs. Quality analysis tools help measure and improve your production quality. Built-in employee training tracking and tools for post-production problem analysis demonstrate that quality to your customers.
Increase Control of Your Production. QFS allows you to control the costs of serializing and labeling products as they move through the production process. With QFS, you are assured that every product is tested completely, with detailed tracking of each item. You will see significant improvements in both product revision control and process revision control.
Complete Client Server Solution
QFS is a modular client server system, so that you can start with as few as just one functional module and add capability as you need it. At the heart of QFS is the QFS System Module, which consists of the QFS Server and the QFS Database.



QFS works with virtually any MPR/ERP system, including Ask ManMan, Baan, Fourth Shift, Oracle, and SAP.
The QFS Database contains a full data model and all the required database application elements to handle any level of manufacturing application. Using a bundled Oracle run-time relational database, the QFS Database can support very large data volumes and offers unparalleled expandability.
All real-time connections use the same QFS Protocol for communications to the QFS System Module. The protocol uses standard Internet Protocol, thus eliminating any need to know SQL for system integration. It is widely supported, reliable, and robust.
The QFS Server manages and optimizes all communications within the QFS system. Additional capabilities, such as a Barcode and Label Printing Server, HTTP Web Reporting, Excel Statistical Process Control Analysis, support for Multiple Inventory Areas, and both off-line and on-line ERP System Interfaces can be added to the main QFS Server program. This makes QFS a valuable tool for your entire organization.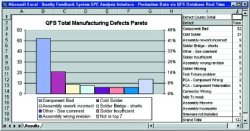 QFS Provides paretos, run charts, and other statistical analysis tools to control and improve production processes.
Modules to Meet Your Exact Requirements
To this base configuration, you can select from a wide variety of functional modules. These modules include:
Pass-Fail and Defect Inspection Data Collection allows you to collect such data as assembly number, serial number, revision, time stamp, pass/fail status, comments, test program, test step number, test station, pass count, and employee name. In addition, this module allows you to record the causes of failures to help facilitate yield improvement programs.
Parametric Test Data Collection gathers test results from automatic test equipment (ATE) clients.
Routing Enforcement controls the on-line establishment and modification of shop floor routes.
Product Hierarchy and Conversion provides individual validation of products in the production flow at the serial number, assembly number, and revision level. This ensures only the current version of a product is being produced.
Training Tracking insures that only qualified employees are performing the task at hand.
Process and ATE Version Tracking enforces the use of the latest version of ATE software, and can also be used to download the latest version of firmware into a device being manufactured.
Repair and Rework tracks repair actions and allows for subsequent analysis of repair effectiveness.
RMA Tracking keeps returned materials distinct from primary production materials.
MAC Addressing allows unique identifications to be "burned in" to hardware such as Ethernet adapters.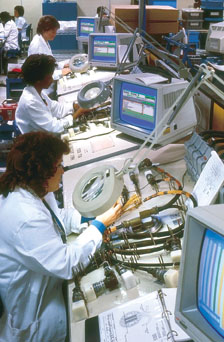 Context-sensitive GUIs guide operators through production processes, data entry, and provide graphical work instruction.
Serving a Variety of Industries
Users include electronics manufacturers in such fields as computers, instrumentation, telecommunications, and other electronics, heavy equipment manufacturers in markets such as automotive, industrial, oil & mineral exploration, aerospace and defense, semiconductor capital equipment, medical equipment manufacturers, and others.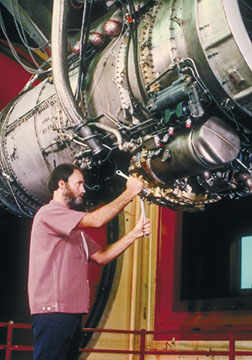 QFS will help manufacturing work with the design, engineering, finance and marketing portions of the manufacturing enterprise, no matter where they are.
Gets You Up and Running Quickly
The QFS system is designed to be quickly and easily installed by you, and it can be adapted to a wide variety of computer systems, barcode equipment, ATE devices, and other production equipment. Minimal support is needed from your IT department: QFS is generally operational within days of installation, and most portions of the system are maintained by production personnel.
The Manufacturing Software Leader
QFS is designed by Automation Programming, Inc. (API), which has specialized in manufacturing software since 1986. API has built custom systems from production machine communications to work cell-level integration to large enterprise-wide manufacturing systems.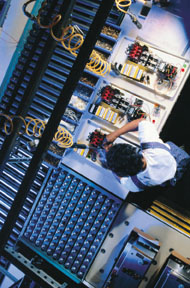 QFS Centralizes production control and automatically disseminates changes throughout the orgainization, providing better pre- and post-production controls.
API provides complete customer support solutions, including dial-in system diagnostics, priority support programs, on-site training and installation, and customization services.
Call API Today!
To reduce costs, improve quality, and better control your manufacturing processes, call API at 415.550.8000.